How to organise a virtual Farmers' Company course Reunion?
---
Posted on Fri, Apr 24, 2020 10:48 AM
---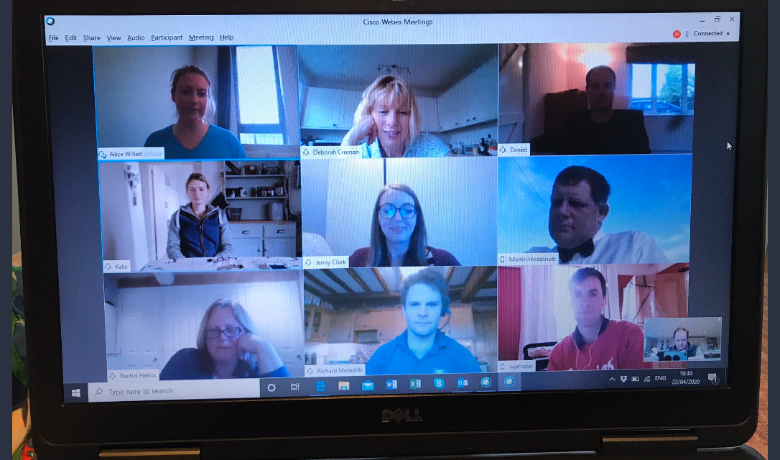 ---
The 24th Challenge of Rural Leadership used the evening, when we would have had the pleasure of their company for the 2020 Agricultural Lecture and Dinner at Plaisterers' Hall, to their advantage and meet up for a virtual reunion. As you can see Martin Hoddinott even dressed up in his Black Tie for the occasion. #bemoremartin!
This bought us to think how we can make others join in having the virtual reunions? So, below is a quick guide how to organise a WCF Course reunion:
How to Organise a Virtual WCF Course ReunionÂ
Download the Zoom app on your mobile phone, tablet or computer

The video lasts about 10 minutes but is quite useful for the basic meeting controls.
Â
You Tube Video link to learn how Zoom works :-
https://www.youtube.com/watch?v=ygZ96J_z4AY&feature=emb_rel_end
Decide upon a time suitable for all participants, taken into consideration large time differences

Note for Zoom meetings that the app is free and allows meetings of up to 45 minutes. If you want to have longer meetings you will need to take out a monthly subscriptionÂ

The scheduling of a meeting will create a URL specific to that meeting which can be e mailed or put in a WhatsApp group to the course members

For those participants not familiar with Zoom offer them the possibility of a test meeting so that ahead of the Virtual Re-union they are conversant with the software

In order to create some order to the meeting as well as reducing background noise it may be worthwhile for the host to mute all the participants with the  exception of an appointed speaker. Give each speaker two minutes to give their views on matters before inviting the next speaker to do the same.Â

Once you have been through all the participants you can unmute everybody and allow general conversationÂ

Suggest participants bring their own bottle to the reunion - glasses are optional!

Stay safe!
---