2021 WCFA Learning Extension Day - 8th December
---
Posted on Thu, May 20, 2021 11:23 AM
---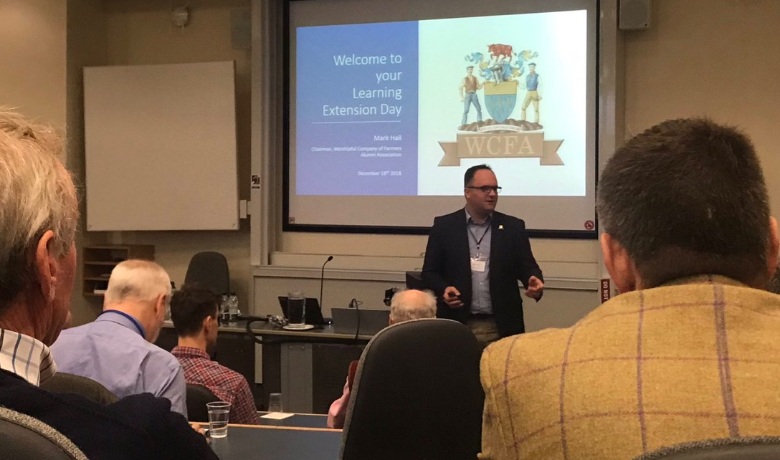 ---
The Worshipful Company of Farmers Alumni Association (WCFA) Committee have developed the 2021Learning Extension Day to be held in the Cranfield Management Development Centre at Cranfield University, Bedfordshire on Wednesday 8th December.
The purpose of the Alumni Learning Extension Day (LED) is to:
- offer an opportunity to alumni of WCF courses to continue to expand their knowledge of modern business management techniques
- provide further opportunities for alumni to think beyond their day to day agricultural business activities for the long-term benefit of themselves and their businesses
- aid alumni networking across all WCF courses and years
- provide access to mentoring and support for those seeking help with specific business and/or leadership challenges
An interactive day with many opportunities for group discussion, the LED is being developed to stretch your minds and continue to help advance alumni to meet the future challenges of UK agri-businesses and turn as many of those as possible to opportunities.
2021 Programme
The day will start at 09:00am with registration from 08:15am. Professor David Hughes, Emeritus Professor for Food Marketing at Imperial College will open the day with a session looking at the challenges and opportunities we face. Following that much of the day is broken into facilitated working groups considering three main topic areas:
Data analysis & skills for succession - Paul Rous, Yara Intl & David Buck/David Macaulay of Eden Search
Consumer insights for the future - Joel Barlow of Müller Milk & Ingredients
Organisational structures - Major Lucy Scott, 32nd Regiment Wessex Gunners, Royal Artillery
A debate will take place on Neither conventional intensive farming nor organic farming hold the answer to sustainable agriculture during the final session with the following panellists: Caroline Drummond, LEAF; Mark Hall, Syngenta; Russell Carrington, Knepp Regenerative Farms; Carl Atkin, Terravost.
The day will close at 18:00.
For those participants wishing to continue the discussion and networking, an optional drinks reception and a 3-course dinner* will be held in the evening. Our dinner speaker is Matt Naylor of Naylor Flowers and 2004 ACABM alumnus.
Hotel accommodation** facilities are available in the centre for those travelling from afar and wishing to stay before and/or after the day. Single £90; Double £115 (on a B&B basis).
This 2021 LED will be open to WCFA members and, from 1st September, guests of alumni members. Numbers for this event are limited to 120 and will be allocated on a ˜first come first served" basis.
https://www.eventbrite.co.uk/e/2021-wcfa-learning-extension-day-embracing-a-sustainable-future-tickets-160524985553
---